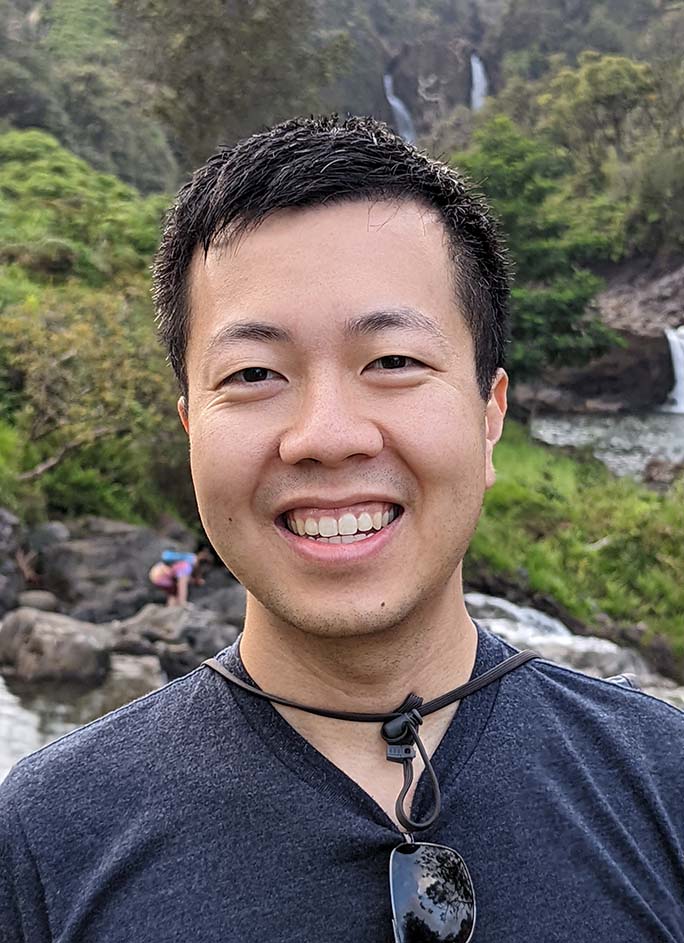 245 CIT
115 Waterman Street
Providence RI 02912
401-863-5808
home@jeffhuang.com
Office Hours: Tues 2-3pm
Drop in only, no appointments
I'm an Associate Professor and Associate Chair of Computer Science at Brown University. My research is in Human-Computer Interaction, where my research is building personalized systems based on user behavior data. These systems are applied to attention, mobile, user experience, and health. I am primarily funded by the NSF, NIH, and ARO, and have received the NSF CAREER award, Facebook Fellowship, and ARO Young Investigator Award.
My Ph.D. is in Information Science from the University of Washington in Seattle, and my masters and undergraduate degrees are in Computer Science from the University of Illinois at Urbana-Champaign (UIUC). Before joining Brown, I analyzed search behavior at Microsoft Research, Google, Yahoo, and Bing; and co-founded World Blender, a Techstars-backed startup that made geolocation mobile games.
Brown University students interested in joining my group should review our active projects and read about the expectations. Ph.D. applicants please read the Student FAQ.
Teaching
User Interfaces
Fall 2013, Fall 2014, Fall 2015, Fall 2016, Fall 2017, Fall 2018, Fall 2019, Fall 2020, Fall 2022
HCI Seminar
Spring 2014, Spring 2015, Spring 2018, Spring 2020, Spring 2023
Livestreaming Reimagined
Spring 2021
Computer Science Research Methods
Spring 2019
Personal Informatics Seminar
Spring 2016
Information Retrieval
Fall 2010 (University of Washington)
---
Computer Science Open Data
Data analysis about professors, rankings, best papers, and stipends
CS Faculty Composition and Hiring Trends [source: Drafty CS Professors]
Bias in Computer Science Rankings [source: CS Open Rankings]
Who Wins CS Best Paper Awards? [source: Best Paper Awards in Computer Science]
Verified Computer Science Ph.D. Stipends [contribute]
The Endlessness of Publishing
Behind the scenes: the struggle for each paper to get published
This page is designed to last, a manifesto for preserving content on the web
Illustrative notes for obsessing over publishing aesthetics
On Long-Term Self-Tracking
My productivity app is a never-ending .txt file
The Coronavirus pandemic has changed our sleep behavior
Extracting data from tracking devices by going to the cloud
---
Papers from my Research Group
Negotiating Dyadic Interactions through the Lens of Augmented Reality Glasses
Ji Won Chung, Jenny Fu, Zachary Deocadiz-Smith, Malte Jung, Jeff Huang
DIS 2023
filtered.ink: Creating Dynamic Illustrations with SVG Filters
Tongyu Zhou, Connie Liu, Joshua Yang, Jeff Huang
CHI 2023 [website]
"Together but not together": Evaluating Typing Indicators for Interaction-Rich Communication
Zainab Iftikhar, Yumeng Ma, Jeff Huang
CHI 2023
FocalPoint: Adaptive Direct Manipulation for Selecting Small 3D Virtual Objects
Jiaju Ma, Jing Qian, Tongyu Zhou, Jeff Huang
IMWUT 2023
Bridging the Social Distance: Offline to Online Social Support during the COVID-19 Pandemic
Gabriela Hoefer, Talie Massachi, Neil G Xu, Nicole Nugent, Jeff Huang
CSCW 2022
The UX Factor: Using Comparative Peer Review to Evaluate Designs through User Preferences
Sarah Bawabe, Laura Wilson, Tongyu Zhou, Ezra Marks, Jeff Huang
CSCW 2021 (Honorable Mention Award, Impact Recognition Award) [website]
Case Studies on the Motivation and Performance of Contributors Who Verify and Maintain In-Flux Tabular Datasets
Shaun Wallace, Alexandra Papoutsaki, Neilly H. Tan, Hua Guo, Jeff Huang
CSCW 2021
Portalware: Exploring Free-Hand AR Drawing with a Dual-Display Smartphone-Wearable Paradigm
Jing Qian, Tongyu Zhou, Meredith Young-Ng, Jiaju Ma, Angel Cheung, Xiangyu Li, Ian Gonsher, Jeff Huang
DIS 2021
Self-E: Smartphone-Supported Guidance for Customizable Self-Experimentation
Nediyana Daskalova, Eindra Kyi, Kevin Ouyang, Arthur Borem, Sally Chen, Sung Hyun Park, Nicole Nugent, Jeff Huang
CHI 2021 [website]
Sochiatrist: Signals of Affect in Messaging Data
Talie Massachi, Grant Fong, Varun Mathur, Sachin Pendse, Gabriela Hoefer, Jessica Fu, Chong Wang, Nikita Ramoji, Nicole Nugent, Megan Ranney, Daniel Dickstein, Michael Armey, Ellie Pavlick, Jeff Huang
CSCW 2020 [website]
Sketchy: Drawing Inspiration from the Crowd
Shaun Wallace, Brendan Le, Luis Leiva, Aman Haq, Ari Kintisch, Gabrielle Bufrem, Linda Chang, Jeff Huang
CSCW 2020 [website]
SleepBandits: Guided Flexible Self-Experiments for Sleep
Nediyana Daskalova, Jina Yoon, Yibing Wang, Cintia Araujo, Guillermo Beltran, Nicole Nugent, John McGeary, Joseph Jay Williams, Jeff Huang
CHI 2020 [website]
Portal-ble: Intuitive Free-Hand Manipulation in Unbounded Smartphone-based Augmented Reality
Jing Qian, Jiaju Ma, Xiangyu Li, Benjamin Attal, Haoming Lai, James Tompkin, John Hughes, Jeff Huang
UIST 2019 [website]
Rewind: Automatically Reconstructing Everyday Memories with First-Person Perspectives
Neille-Ann Tan, Han Sha, Eda Celen, Phucanh Tran, Kelly Wang, Gifford Cheung, Philip Hinch, Jeff Huang
IMWUT 2018
Remotion: A Motion-Based Capture and Replay Platform of Mobile Device Interaction for Remote Usability Testing
Jing Qian, Arielle Chapin, Alexandra Papoutsaki, Fumeng Yang, Klaas Nelissen, Jeff Huang
IMWUT 2018 [website]
The Eye of the Typer: A Benchmark and Analysis of Gaze Behavior during Typing
Alexandra Papoutsaki, Aaron Gokaslan, James Tompkin, Yuze He, Jeff Huang
ETRA 2018 [website]
Lessons Learned from Two Cohorts of Personal Informatics Self-Experiments
Nediyana Daskalova, Karthik Desingh, Alexandra Papoutsaki, Diane Schulze, Han Sha, Jeff Huang
IMWUT 2017
Drafty: Enlisting Users to be Editors who Maintain Structured Data
Shaun Wallace, Lucy van Kleunen, Marianne Aubin-Le Quere, Abraham Peterkin, Yirui Huang, Jeff Huang
HCOMP 2017 [website]
SearchGazer: Webcam Eye Tracking for Remote Studies of Web Search
Alexandra Papoutsaki, James Laskey, Jeff Huang
CHIIR 2017 (Best Paper Finalist) [website]
Master Maker: Understanding Gaming Skill through Practice and Habit from Gameplay Behavior
Jeff Huang, Eddie Yan, Gifford Leung, Nachiappan Nagappan, Thomas Zimmermann
topiCS (Topics in Cognitive Science), 9(2), 2017
SleepCoacher: A Personalized Automated Self-Experimentation System for Sleep Recommendations
Nediyana Daskalova, Danaë Metaxa, Adrienne Tran, Nicole Nugent, Julie Boergers, John McGeary, Jeff Huang
UIST 2016 [website]
WebGazer: Scalable Webcam Eye Tracking Using User Interactions
Alexandra Papoutsaki, Patsorn Sangkloy, James Laskey, Nediyana Daskalova, Jeff Huang, James Hays
IJCAI 2016 [website]
Crowdsourcing from Scratch: A Pragmatic Experiment in Data Collection by Novice Requesters
Alexandra Papoutsaki, Hua Guo, Danaë Metaxa, Connor Gramazio, Jeff Rasley, Wenting Xie, Guan Wang, Jeff Huang
HCOMP 2015 (Best Paper Finalist)
Masters of Control: Behavioral Patterns of Simultaneous Unit Group Manipulation in StarCraft 2
Eddie Yan, Jeff Huang, Gifford Cheung
CHI 2015
Papers Led by Collaborators
Understanding the Needs of Enterprise Users in Collaborative Python Notebooks
Catherine Li, Talie Massachi, Jordan Eschler, Jeff Huang
CHI 2023 case study
Increased sleep duration and delayed sleep timing during the COVID-19 pandemic
Robin K. Yuan, Kirsi-Marja Zitting, Liyaan Maskati, Jeff Huang
Scientific Reports, 12(10937), 2022 [website]
Personalized Font Recommendations: Combining ML and Typographic Guidelines to Optimize Readability
Tianyuan Cai, Shaun Wallace, Tina Rezvanian, Jonathan Dobres, Bernard Kerr, Samuel Berlow, Jeff Huang, Ben D. Sawyer, Zoya Bylinskii
DIS 2022
Days with and without self-injurious thoughts and behaviors: Impact of childhood maltreatment on adolescent online social networking
Lauren R. Grocott, Anneliese Mair, Janine N. Galione, Michael F. Armey, Jeff Huang, Nicole R. Nugent
Journal of Adolescence, 94(5), 2022
Dually Noted: Layout-Aware Annotations with Smartphone Augmented Reality
Jing Qian, Qi Sun, Curtis Wigington, Han L. Han, Tong Sun, Jennifer Healey, James Tompkin, Jeff Huang
CHI 2022
Towards Individuated Reading Experiences: Different Fonts Increase Reading Speed for Different Individuals
Shaun Wallace, Zoya Bylinskii, Jonathan Dobres, Bernard Kerr, Sam Berlow, Rick Treitman, Nirmal Kumawat, Kathleen Arpin, Dave B. Miller, Jeff Huang, Ben D. Sawyer
TOCHI (Transactions on Computer-Human Interaction), 29(4), 2022
Scalable Scalable Vector Graphics: Automatic Translation of Interactive SVGs to a Multithread VDOM for Fast Rendering
Michail Schwab, David Saffo, Nicholas Bond, Shash Sinha, Cody Dunne, Jeff Huang, James Tompkin, Michelle Borkin
TVCG (Transactions on Visualization and Computer Graphics), 28(9), 2022 [website]
Evaluating Pan and Zoom Timelines and Sliders
Michail Schwab, Sicheng Hao, Olga Vitek, James Tompkin, Jeff Huang, Michelle Borkin
CHI 2019 [website]
EasyPZ.js: Interaction Binding For Pan and Zoom Visualizations
Michail Schwab, James Tompkin, Jeff Huang, Michelle Borkin
VIS 2019 short paper [website]
Investigating the Effectiveness of Cohort-Based Sleep Recommendations
Nediyana Daskalova, Bongshin Lee, Jeff Huang, Chester Ni, Jessica Lundin
IMWUT 2018
SEEDE: Simultaneous Execution and Editing in a Development Environment
Steven Reiss, Qi Xin, Jeff Huang
ASE 2018
An Analysis of Automated Visual Analysis Classification: Interactive Visualization Task Inference of Cancer Genomics Domain Experts
Connor Gramazio, Jeff Huang, David Laidlaw
TVCG (Transactions on Visualization and Computer Graphics), 24(8), 2017
Strokes of Insight: User Intent Detection and Kinematic Compression of Mouse Cursor Trails
Daniel Martín-Albo, Luis Leiva, Jeff Huang, Réjean Plamondond
IPM (Information Processing & Management), 52(6), 2016
Learning Behaviors via Human-Delivered Discrete Feedback
Robert Loftin, Bei Peng, James MacGlashan, Michael Littman, Matthew Taylor, Jeff Huang, David Roberts
JAAMAS (Autonomous Agents and Multi-Agent Systems), 30(1), 2016
Representing Uncertainty in Graph Edges: An Evaluation of Paired Visual Variables
Hua Guo, Jeff Huang, David Laidlaw
TVCG (Transactions on Visualization and Computer Graphics), 21(10), 2015
Building a Better Mousetrap: Compressing Mouse Cursor Activity for Web Analytics
Luis Leiva, Jeff Huang
IPM (Information Processing & Management), 51(2), 2015 [website]
A Strategy-Aware Technique for Learning Behaviors from Discrete Human Feedback
Robert Loftin, James MacGlashan, Bei Peng, Matthew Taylor, Michael Littman, Jeff Huang, David Roberts
AAAI 2014
Papers as a Student
Mastering the Art of War: How Patterns of Gameplay Influence Skill in Halo
Jeff Huang, Thomas Zimmermann, Nachiappan Nagappan, Charles Harrison, Bruce Phillips
CHI 2013 (Best Paper Finalist)
RevMiner: An Extractive Interface for Navigating Reviews on a Smartphone
Jeff Huang, Oren Etzioni, Luke Zettlemoyer, Kevin Clark, Christian Lee
UIST 2012
Improving Searcher Models Using Mouse Cursor Activity
Jeff Huang, Ryen White, Georg Buscher, Kuansan Wang
SIGIR 2012
User See, User Point: Gaze and Cursor Alignment in Web Search
Jeff Huang, Ryen White, Georg Buscher
CHI 2012
No Search Result Left Behind: Branching Behavior with Browser Tabs
Jeff Huang, Thomas Lin, Ryen White
WSDM 2012
Large-Scale Analysis of Individual and Task Differences in Search Result Page Examination Strategies
Georg Buscher, Ryen White, Susan Dumais, Jeff Huang
WSDM 2012
Remix and Play: Lessons from Rule Variants in Texas Hold'em and Halo 2
Gifford Cheung and Jeff Huang
CSCW 2012
Interactive Search Support for Difficult Web Queries
Abdigani Diriye, Giridhar Kumaran, Jeff Huang
ECIR 2012
No Clicks, No Problem: Using Cursor Movements to Understand and Improve Search
Jeff Huang, Ryen White, and Susan Dumais
CHI 2011 (Best Paper Finalist)
Starcraft from the Stands: Understanding the Game Spectator
Gifford Cheung and Jeff Huang
CHI 2011
Optimal Strategies for Reviewing Search Results
Jeff Huang and Anna Kazeykina
AAAI 2010
Assessing the Scenic Route: Measuring the Value of Search Trails in Web Logs
Ryen White and Jeff Huang
SIGIR 2010 (Best Paper Award)
Studying Trailfinding Algorithms for Enhanced Web Search
Adish Singla, Ryen White, and Jeff Huang
SIGIR 2010
Conversational Tagging in Twitter
Jeff Huang, Katherine Thornton, and Efthimis Efthimiadis
Hypertext 2010 short paper
Parallel Browsing Behavior on the Web
Jeff Huang and Ryen White
Hypertext 2010 short paper
Analyzing and Evaluating Query Reformulation Strategies in Web Search Logs
Jeff Huang and Efthimis Efthimiadis
CIKM 2009 (Best Student Paper Finalist)
Graphstract: Minimal Graphical Help for Computers
Jeff Huang and Michael Twidale
UIST 2007
Curious about the backstory behind my papers?
Workshop Papers
Learning Something from Nothing: Leveraging Implicit Human Feedback Strategies
Robert Loftin, Bei Peng, James MacGlashan, Michael Littman, Matthew Taylor, Jeff Huang, David Roberts
RO-MAN 2014
Influence of Gameplay on Skill in Halo Reach
Jeff Huang, Thomas Zimmermann, Nachiappan Nagappan, Charles Harrison, Bruce Phillips
CHI Games User Research Workshop 2013
Web User Interaction Mining from Touch-Enabled Mobile Devices
Jeff Huang and Abdigani Diriye
HCIR Workshop 2012
On the Value of Page-Level Interactions in Web Search
Jeff Huang
HCIR Workshop 2011